Thousands of Hellenes across Adelaide celebrated Easter this year as Sunday 21st of April marked the week-long Passion of Christ, namely Holy Week.
Both Good Friday and Holy Saturday services had the Community's churches packed out with parishioners as Orthodoxy's most significant event called for peace and prosperity.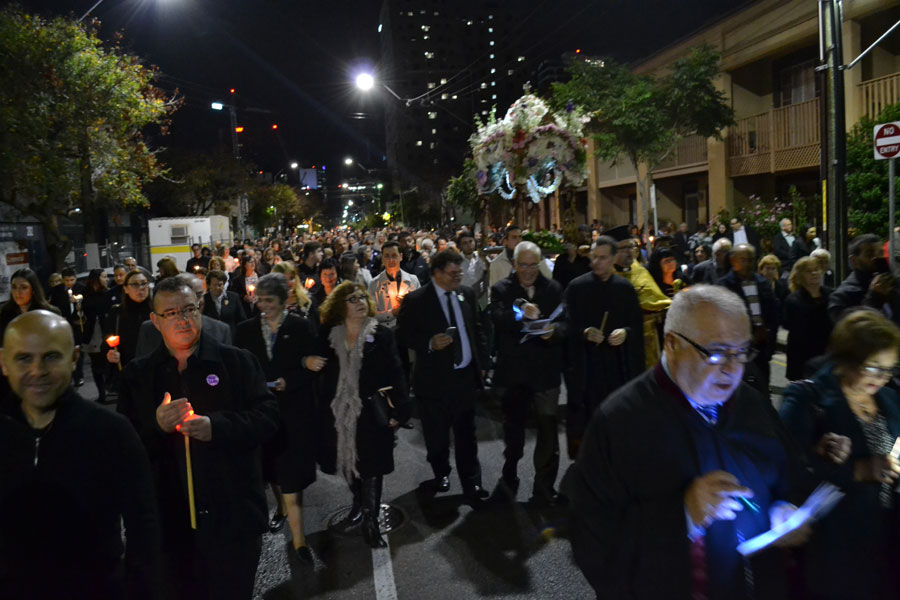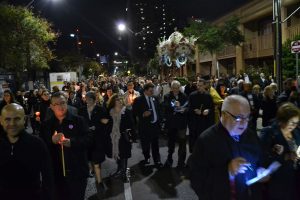 The traditional decorating of the Tomb of Christ 'Epitafio' in preparation for the Friday service began on Thursday where women and girls worked in teams to place the flowers on the tomb as well as prepare the church for the service.
Black and purple ribbons ran across the churches' interior reflecting the mourning atmosphere for the Passion of Christ.
On Good Friday, the Tomb of Christ dominated in every church portraying His passion that is seen as a symbol of catharsis of the soul and connection with the Divine.
Byzantine hymns at the Tomb performed by the Community's Choir gave way to the church procession of the 'Epitaphio' around 9.15pm, with thousands of people following its course around the block.
The Hon Frank Pangallo, Member for the Legislative Council, Councillor Franz Knoll on behalf of the Lord Mayor of Adelaide Ms Sandy Verschoor and Ms Antonietta Cocciaro on behalf of the Chair of SAMEAC Mr Norman Schueler attended the services at the Cathedral of Archangels Michael and Gabriel in the city.
Meanwhile, Mayor of Charles Sturt Angela Evans and the Leader of the Opposition Mr Peter Malinauskas attended the church procession of 'Epitaphio' at the church of The Dormition of Virgin Mary at Croydon. Mr David Pisoni, Minister for Industry and Skills and Ms Jayne Stinson, Member for Badco eattended the service at Sts Constantine and Helen church respectively. The Mayor of West Torrens Council Mr Michael Coxon attended the services at St Nicholas Church in Thebarton.
The celebrations peaked on Easter Saturday 28th of April with the traditional midnight mass as thousands of the Community's members flocked to church to attend the Resurrection Ceremony and to receive the Eternal Light.
At midnight, priests sang out "Christ has Risen', marking the end of the Passion and making the joyful announcement of Christ's resurrection.