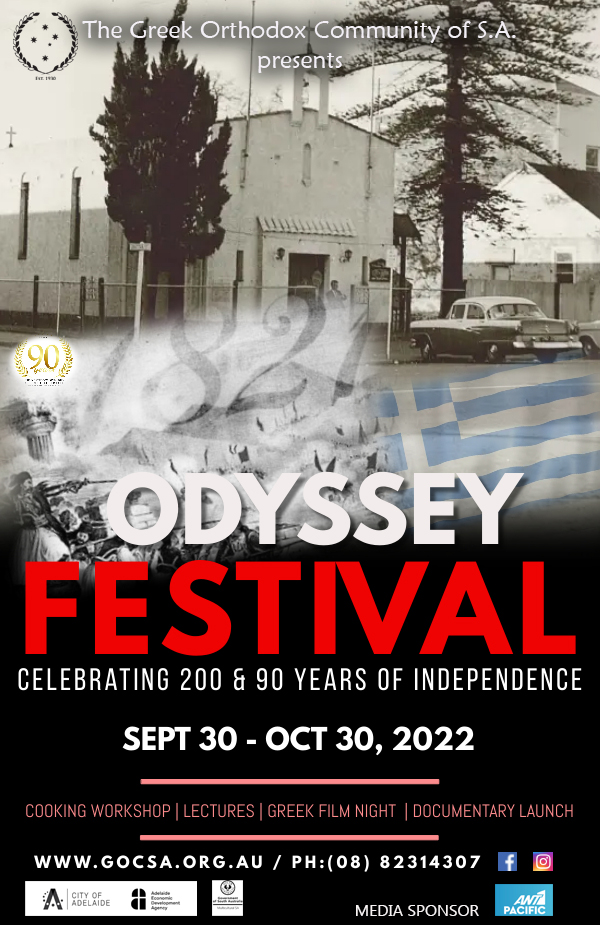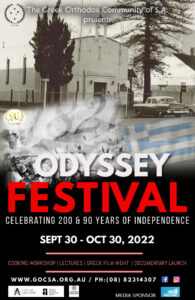 Dear members, Hellenes and Philhellenes
After two years of inactivity due to COVID-19, the Odyssey Festival is back in 2022!
Yes, Hellenic culture through the arts returns in September and is ready to share its beauty with you.
Adelaide's 15th Hellenic Cultural Festival Odyssey kicks off on September 30th at the Olympic Hall, featuring a variety of cultural events for everyone to enjoy.
For enquiries, call us on 8231 4307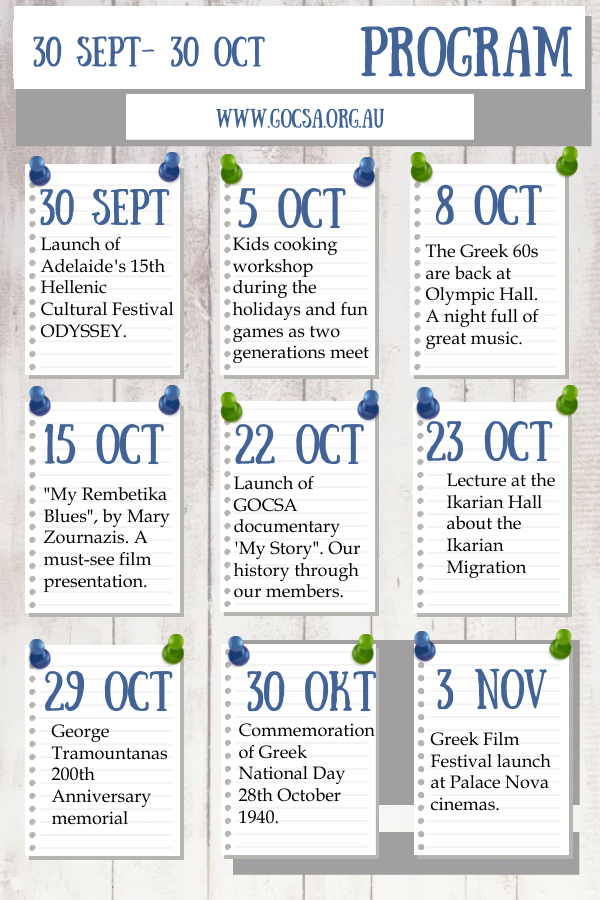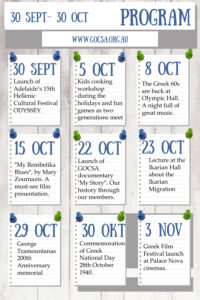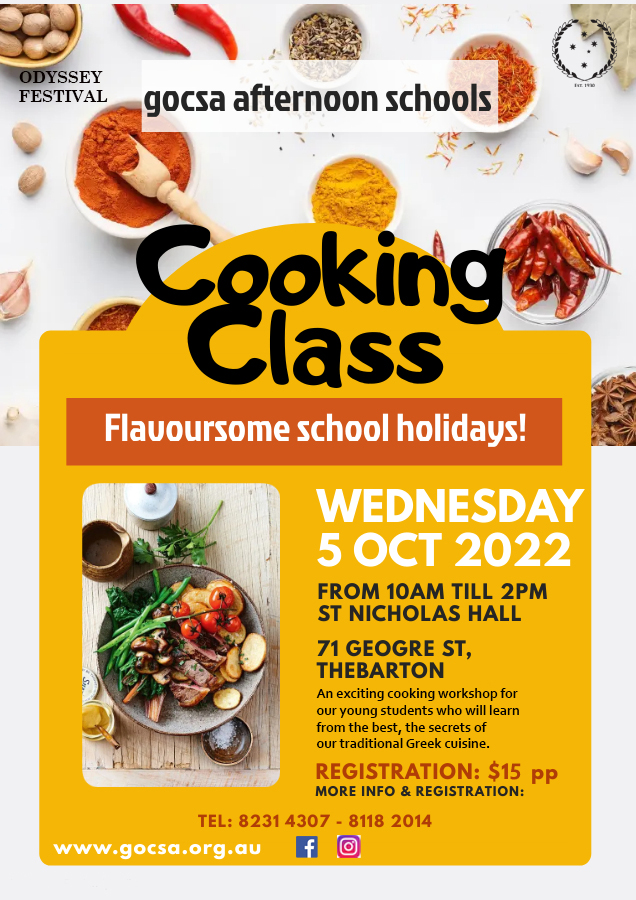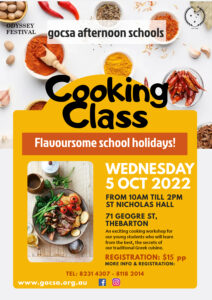 1) Students' Cooking Workshop:
School holidays have colour, sound and can also have taste. Literally! The Odyssey Festival opens its cooking lab for young children, making these school holidays a rather "flavoursome" experience. A communicative approach that takes language and culture acquisition to the next level. All it takes is a rolling pin, flour, cheese and loads of elements of Greek traditions. Young and old meet to join forces as Saint Nicholas Hall becomes the centre of another Greek recipe presentation, inspired by the timeless Hellenic cuisine. This year, our young students will learn from the best, the secrets to our traditional 'tyropita' (cheese pie). It can't get any more Greek than that. Fun games are also on the menu. The best school holidays fun!
ENTRY: $15
WHEN: Wednesday, 5th of October 2022
WHERE: Thebarton Greek Community Centre, 71 George Street, Thebarton
TIME: 10.00am to 2.00pm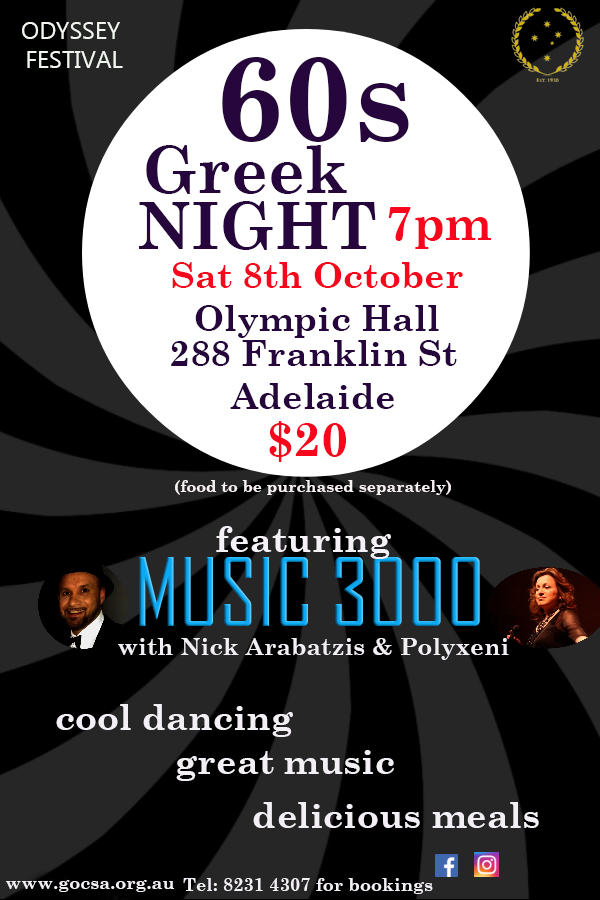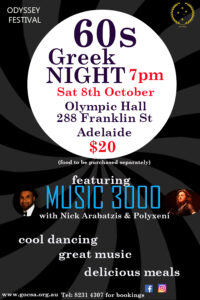 2) Greek 60s Night:
Ready for a step back in time? We always love to bring back memories at Olympic Hall and this year is no exception. How about a night full of the sounds and colours of the 60s. Dress up to the occasion and join us for an event full of tunes that were adored back then and are still adored today.
Musically directed and presented by Nick Love (Arabatzis) and Poly Arabatzis, the Greek 60s Night promises a night that will have it all: Glamour, great music, fun on the dance floor, delicious food and above all, a walk down memory lane! So many stories from the past, stories that many of us have been a part of, will be revisited as the Greek music from the 60s will echo in your favourite venue , the Olympic Hall. A Hall that is so closely associated to the Greek Diaspora of South Australia.
Tickets sell for $20. Food to be purchased separately
WHEN: Saturday 8th of October 2022
WHERE: Olympic Hall, 288 Franklin Street, Adelaide
TIME: 7.00pm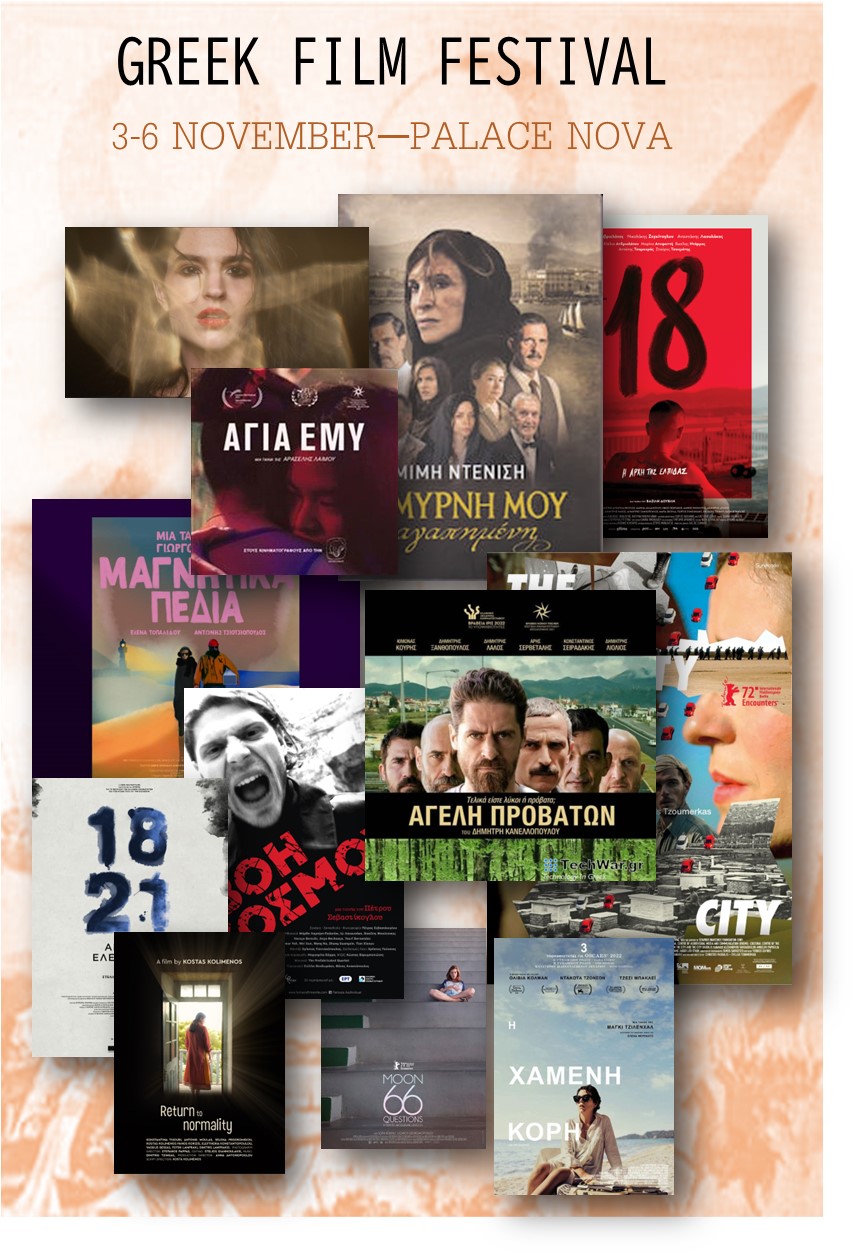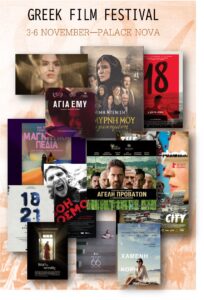 3) Greek Film Festival:
The best that Greek cinema has to offer lands in South Australia as part of the Greek Film Festival at Palace Nova theatres, from the 3rd to the 6th of November. More details soon!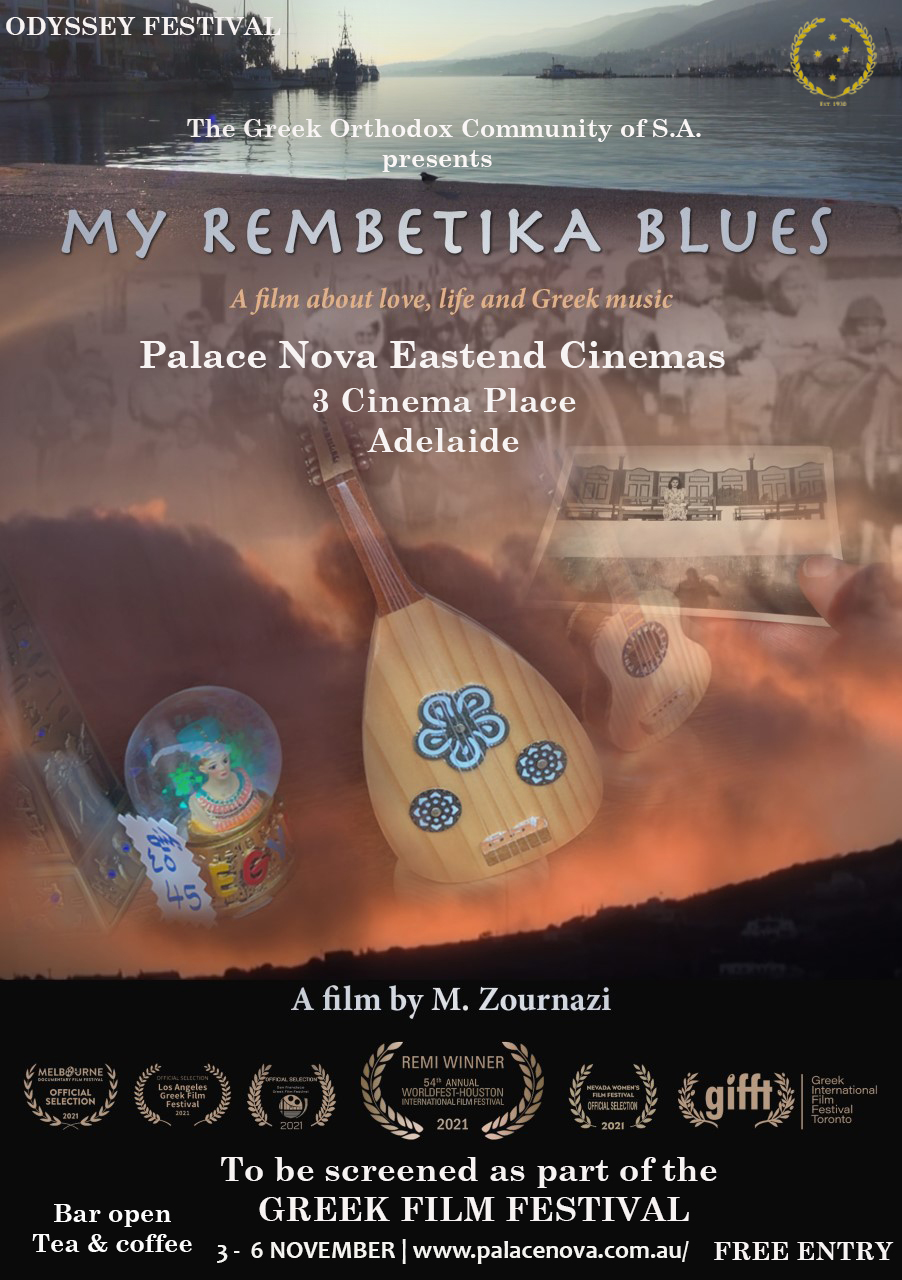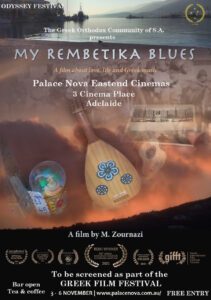 4) "My Rembetika Blues" – film presentation
'My Rembetika Blues' is a documentary film about love, life and Greek Music. Film maker Mary Zournazi takes us on a musical odyssey into the heart and soul of exile and human experience. Rembetika music or the Greek blues is a music born of exile and the streets. Developing its roots from the mass migration of people in the early twentieth century, filmmaker M. Zournazi traces the journey of her forebears from Smyrna in Turkey to Sydney Australia but discovers more than family history, she finds out how music connects people during times of struggle and crises. By weaving together different stories of music and migration, she documents experiences that are often left out of the chronicles of history.
WHEN: This film will be screened as part of the Greek Film Festival
WHERE: Palace Nova Eastend Cinemas, 3 Cinema Place, Adelaide
TIME: (TBA – Please refer to Palace Nova cinemas website www.palacenova.com.au)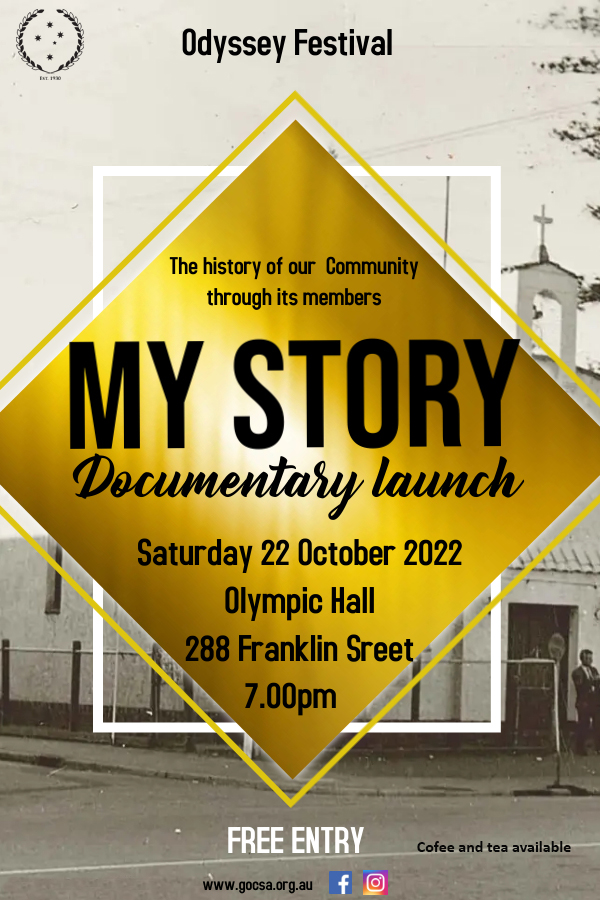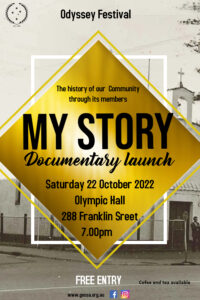 5) "My Story" – documentary presentation
The Greek Orthodox Community of South Australia announced last year an exciting new project that revolutionised the way we capture and preserve our Community's history in the digital era. A new series/documentary called "Η Ιστορία μου" that captures our Community's long history through the eyes and accounts of its own members. Each episode features an interview with a member of our Community where they talk about their affiliation with the Greek Community, their participation in the myriad of events and their own experiences throughout the years. A digital archive not only of our rich history but the history of the Greeks of South Australia in general, a learning portal for the younger generation. The series documentary will be available on our YouTube channel and our social media. Today, we launch this effort as part of celebrating our 90th Year Anniversary.
This is a free event
WHEN: Saturday 22 October 2022
WHERE: Olympic Hall, 288 Franklin Street, Adelaide
TIME: 7.00pm
6) Lecture on the Ikarian Migration
As the year-long celebrations for the Bicentennial of the Greek War of Independence dominated our calendar last year, the Greek Orthodox Community presents two lectures to be part of this year's Odyssey Festival, revolving around Hellenism abroad after the war. The first lecture to be featured, by PhD Candidate at Flinders University Yianni Cartledge is a comprehensive approach of the Ikarian Migration in Australia. This lecture looks at Ikarian emigration from the Aegean region to South Australia between 1910-1945 . Of focus will be their settlement and initial community building, especially in key locations in South Australia such as Port Pirie and the Adelaide CBD. This lecture further examines the ways in which these migrants emigrated, settled, built communities, and integrated into wider Anglophone society, as well as the multiple identities that they navigated, are considered, contemplated, and unravelled in this presentation. FREE EVENT
WHEN: Sunday 23rd of October 2022
WHERE: Ikarian Hall, 24 Arthur Street, Unley
TIME: 2.00pm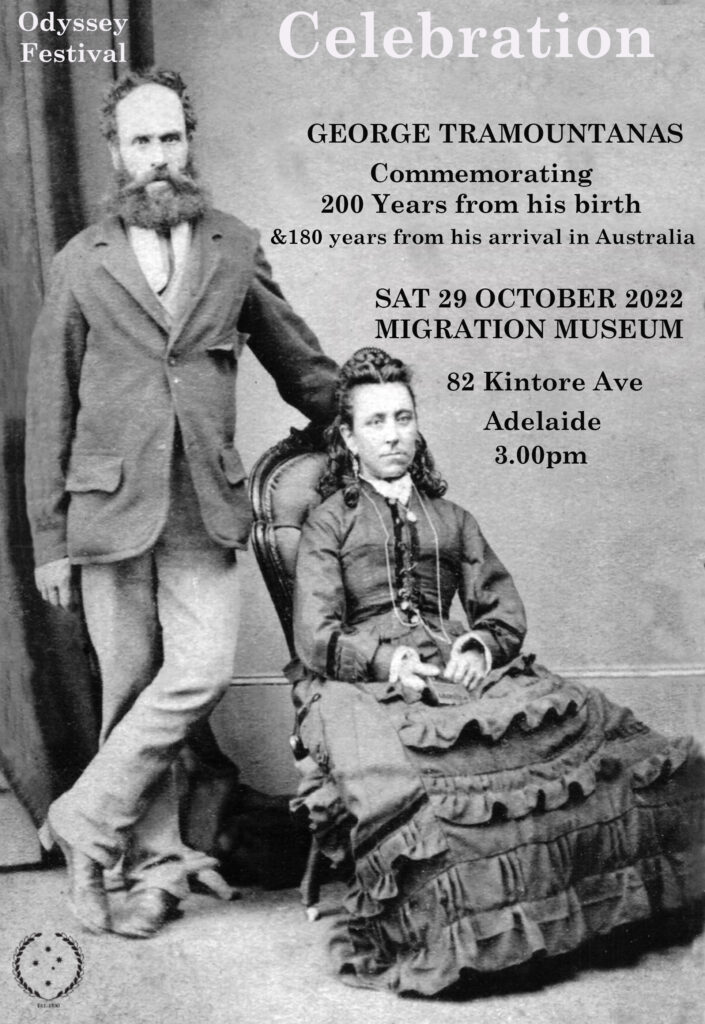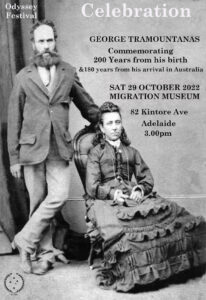 7) In Memoriam – George Tramountanas 200th Anniversary of his arrival in Australia
He was the first Greek to step foot in South Australia in 1842. The first Greek settler George Tramountanas was born in Lemnos Greece in 1822. He was a seaman on sailing ships and had travelled to Australia on previous occasions before arriving at Port Adelaide in 1842. Family oral history notes that George arrived in 1842 with his brother Theodore, who went alone to Albany in Western Australia never to be heard from again. George remained in Adelaide. The Greek Orthodox Community of S.A. in conjunction with the George "North" Tramountanas Association will hold a memorial service commemorating the 200th Year Anniversary of his birth and 180 years from his arrival in South Australia. FREE EVENT
WHEN: Saturday 29th of October 2022
WHERE: Migration Museum, 82 Kintore Avenue, Adelaide
TIME: 3.00pm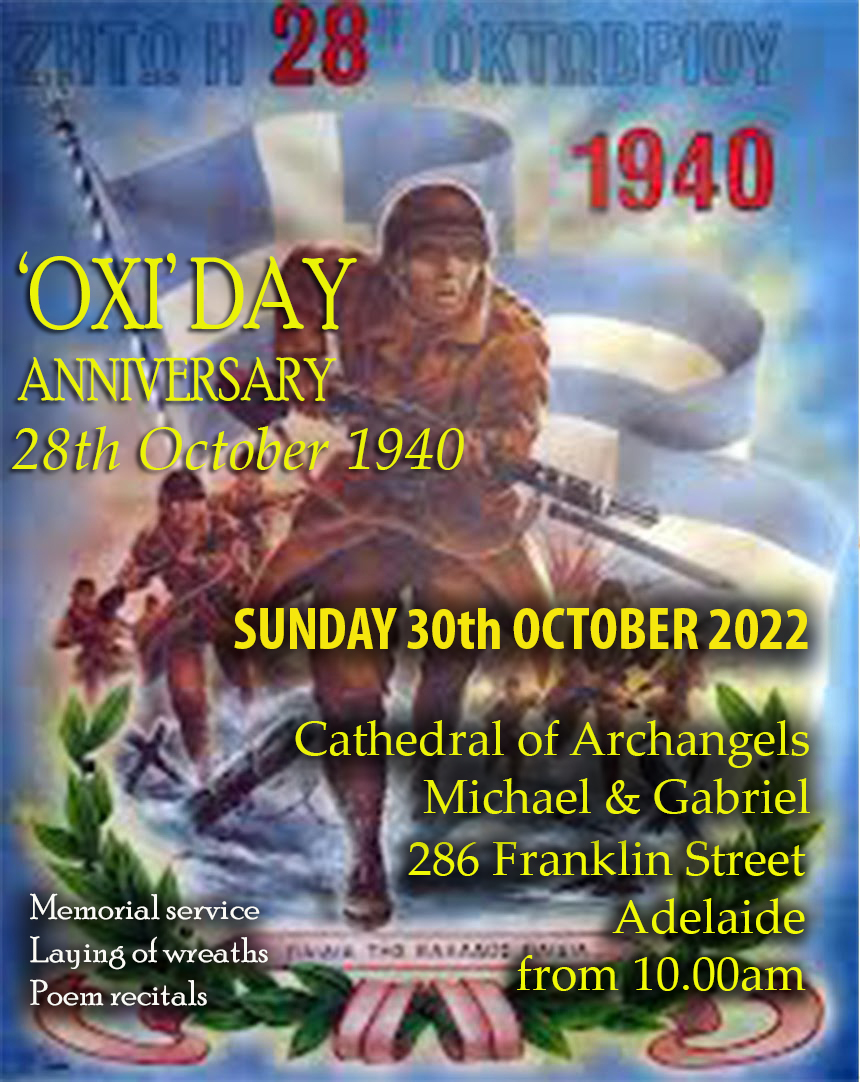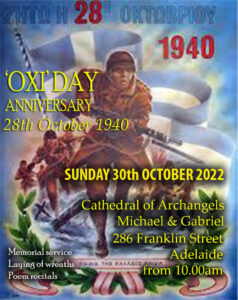 8) Greek National Day 28th October 1940
We commemorate the 82nd Anniversary of the Historic 'OHI' Day