With perfect weather conditions and following a tradition of hundreds of years, the Greek Orthodox Community of S.A. celebrated the Epiphany day on Sunday 6 January 2019 at Henley beach.
Thousands of people flocked to the popular spot to attend the religious event which marks the end of the Christmas-New Year period offering visitors and guests a true Greek seaside feast for yet another year.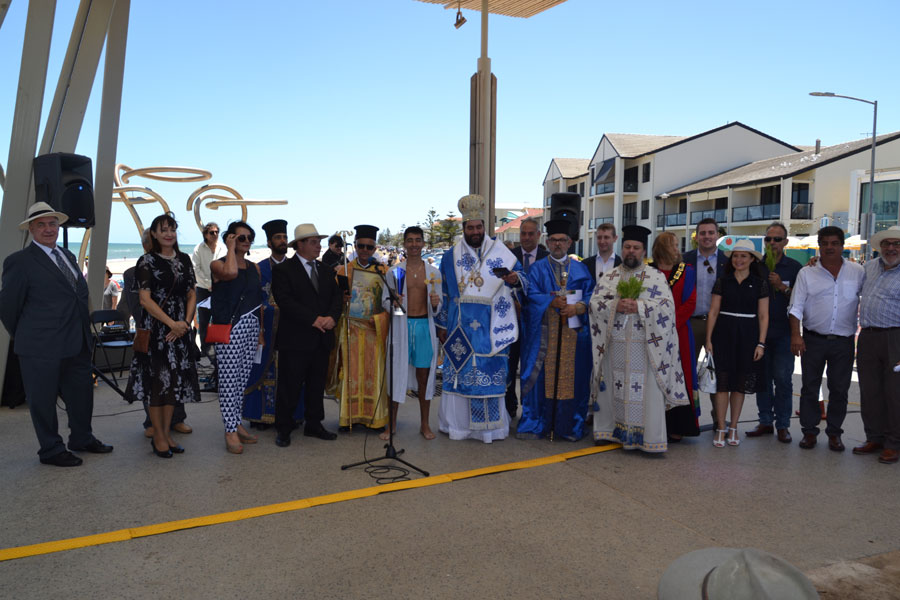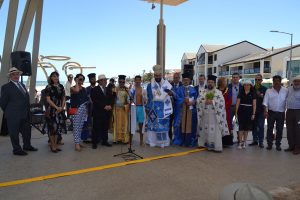 Mr Bill Gonis, President of the Greek Orthodox Community, His Excellency The Hon Hieu Van Le, Governor of South Australia, Hon Vickie Chapman, Deputy Premier, on behalf of the Premier of South Australia Hon Steven Marshall, Mr Peter Malinauskas, Leader of the Opposition, Dr Susan Close, Deputy Leader of the Opposition, The Hon Rachel Sanderson, Minister for Child Protection, Mr Steve Georganas, Federal Member for Hindmarsh, Mr Mat Cowdry, Member for Colton, Her Worship Angela Evans, Mayor of the City of Charles Sturt, Mr Norman Schueler OAM, Chair of SAMEAC, Mr Jake Hall-Evans, Liberal Candidate for Hindmarsh and Ms Nadia Clancy, representing Ms Jayne Stinson, Member for Badcoe were amongst the official guests who attended the event.
The official part of the celebrations began around 12.15pm with visitors and official guests gathering at the end of Henley jetty to attend the Epiphany ceremony where our clergy purify and sanctify the waters, following the tradition of thousands of years.
His Eminence Metropolitan of South Australia Chrisostomos, conducted the sanctification ceremony and following the custom, he threw the cross in to the rather calm waters of Henley beach where around 15 youngsters, amongst them one girl battled the waves in order to retrieve the cross.
Meanwhile, white doves were released in the sky as a symbol of purity and enlightenment, sending a message for peace and prosperity.
Back at Henley Square, the lucky swimmer who brought forward the cross received the blessings from Bishop Chrisostomos and the formalities continued with speeches by official guests.
By this stage long queues had formed at the food stations as hundreds of people lined up for the best lunch in town, followed by Greek desserts, among them, the popular 'loukoumades'.
The festival also featured a full entertainment program, presenting a variety of dance groups on stage. The Pontian Dance Group, the Dance Academy of the Greek Community, the Ukrainian Dance group and fitness fun group Xpress Fitness Academy, all showed off their talent putting together a show for all to enjoy.
Meanwhile, live Greek music and lots of dancing made the biggest part of the festival with band 'Notes' playing favourite tunes, new and old making the stage, the place to be!
The favourite Greek culinary aromas dominated the Square and along with the summer breeze it was the perfect Greek summer day…only thousands of miles away from Greece!
The official part concluded at around 1.00pm and the festival continued with dance and live music