As the Lent period came to a conclusion, thousands of Community members across Adelaide attended the week-long Easter celebrations, also known as the Holy Week, following the Passion of Christ.
All the Community's churches reached beyond full capacity in the days leading to Easter Saturday as members made their way to pray for peace, prosperity and good health.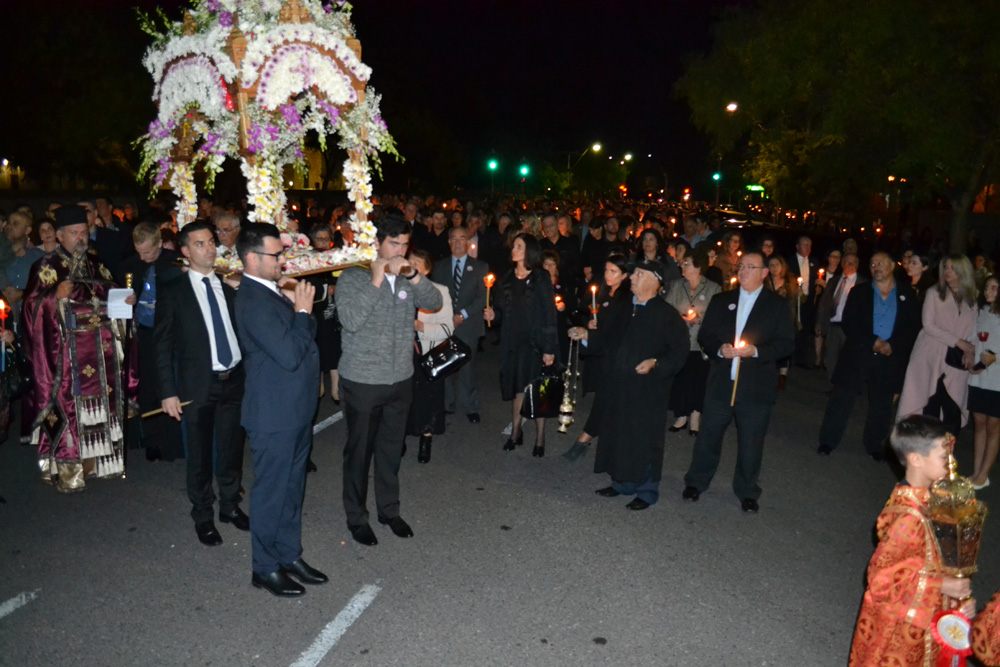 Following the tradition, women of all ages gathered at each of our churches on Thursday to help decorate the Tomb of Christ 'Epitaphio' as well as prepare the church for Good Friday.
Black and purple ribbons ran across the churches' interior reflecting the mourning atmosphere for the Passion of Christ, while the morning services on Thursday and Saturday drew thousands of parishioners who came to receive the Holy Communion.
Peaking on Good Friday, the Tomb of Christ dominated in every church reminding church goers the sacrifice He made for us.
Byzantine hymns were chanted around the Tomb and at around 9.00pm the church procession of the 'Epitaphio' made its way out and around the block, with thousands of people following its course.
The list of official guests who attended the 'Epitafio' procession on Good Friday at the Community's churches included Ms Jo Chapley, Candidate for the seat of Adelaide representing Hon Jay Weatherill, Premier of South Australia, Ms Rachel Sanderson, Member for Adelaide and Shadow Minister for Child Protection representing the Leader of the Opposition Mr Steven Marshall, Mr Michael Atkinson, Member for Croydon and Speaker of the House of Assembly representing the Minister for Multicultural Affirs Hon Zoe Bettison, Ms Angela Evans, Mayor of Charles Sturt Council, Mr David Pisoni, Shadow Minister for Planning, Transport and Infrastructure, Ms Jayne Stinson on behalf of Mr Steve Georganas and Mr Lachlan Clyne, Mayor of Unley and Candidate for the seat of Badcoe
The celebrations peaked on Easter Saturday with the traditional midnight mass as thousands of the Community's members flocked to church to attend the Resurrection Ceremony and to receive the Eternal Light. At midnight, priests sang out "Christ has Risen', marking the end of the Passion and making the joyful announcement of Christ's resurrection.