An unprecedented crowd attended the Blessing of the Waters ceremony and festival at Henley Beach on Sunday January 12th, organised by the Greek Orthodox Community of South Australia.
Perfect weather conditions and Greek hospitality by the seaside, well, you couldn't ask for a better place to be.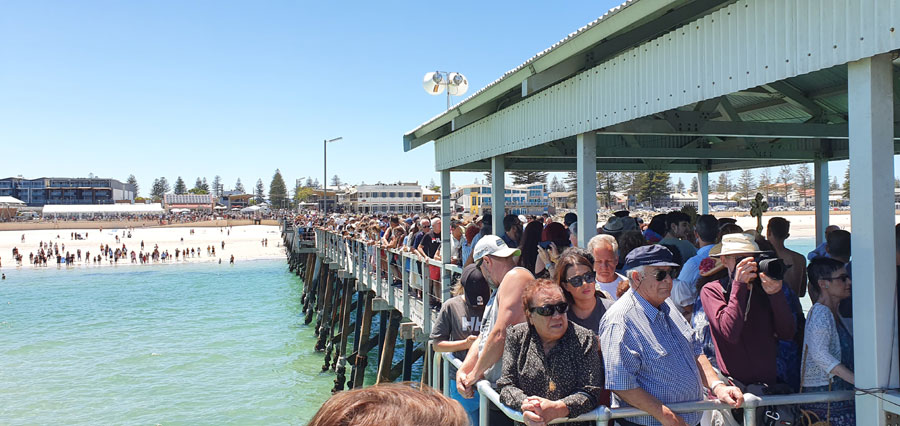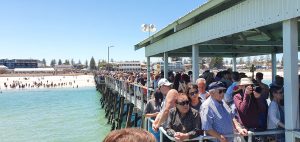 Long queues started forming from as early as 11.00am outside the food stalls as this year's menu featured new enticing items making it a pure Greek food heaven for the festival goers.
The much-anticipated Blessing of the Waters ceremony and the throwing of the cross from Henley jetty drew around 20 swimmers, each one hoping to be the lucky one to retrieve it from the water.
This year the lucky swimmer was 25-year-old Kostas Ninos who literally caught the cross in the air.
"I was practising a lot to be able to do something like that, it was through footy practice really that helped me," said Kostas.
The 25-year-old man was presented with a gold cross and a trophy by the Community's President Mr Bill Gonis and Archimandrite Markos Papapanagiotou who also gave him his blessings.
During the official part of the festival, the Hon Vickie Chapman MP, Attorney General and Deputy Premier who attended on behalf of the Premier of S.A. Hon Steven Marshall congratulated Kosta for his effort and thanked the Greek community of organising such an important event for Adelaide.
Ms Katrine Hildyard, Member for Reynell and Shadow Minister for Multicultural Affairs, the Hon Mark Butler, Member for Hindmarsh and Ms Angela Evans, Mayor of the City of Charles Sturt were also in the guest speakers list.
Other official guests that attended the Festival were His Excellency the Hon Hieu Van Le, Governor of South Australia, The Hon Irene Pnevmatikos MLC, Mr Frank Pangallo MLC, SA Best and Mr Michael Coxon, Mayor of the City of West Torrens
The Festival's grounds took off with some of Adelaide's most popular Greek and multicultural dance groups.
The traditions of Crete and other Greek regions were featured in the Dance Academy of the Greek Orthodox Community of S.A.'s program. Meanwhile the Dance Group of the Pontian Brotherhood of S.A. showcased some of the powerful dances of Pontus.
For those who were trying to stay fit especially after the Xmas period, Opa-Cize, a Greek dance Fitness Group helped burn at least two melomakarona with their dance routines.
Dazzling colours and super energetic dance performances by the Slava Ukrainian Cultural Centre mesmerised the audience.
The Festival continued with live music by Greek band 'Notes' until early evening.
A heart-felt thank you goes out to all our volunteers who worked tirelessly to make this Festival a success.